Press Release
10 July 2018
Newly expanded Fareham Innovation Centre officially launched
The £7M extension to Fareham Innovation Centre at Daedalus, featuring 'The Bridge' a state-of-the-art conference suite, has been officially launched.
The Mayor of Fareham, Cllr Susan Bayford, unveiled a specially commissioned way finder sign which references significant buildings seen from the outdoor terrace of the conference suite.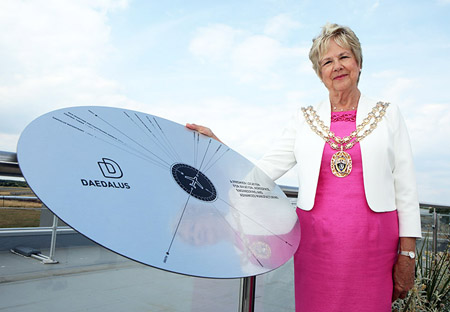 The extension provides 3,400 square metres of new floor space, 33 new offices and five new workshops. The Bridge conference suite benefits from cutting edge technology, supremely comfortable chairs, and opens out onto an impressive balcony with panoramic views of the site. This adds to the top of the range facilities already provided at the Innovation Centre for new businesses in the engineering, aerospace, aviation and marine industries.
Leader of Fareham Borough Council, Cllr Seán Woodward, said: "This extension adds to the excellent facilities already on offer at the Innovation Centre, further underlining it as the location of choice for fledgling companies, especially those in the specialist sectors of aviation, aerospace and marine advanced engineering. The project also brings 300 highly skilled new job opportunities, a great boost to Fareham's economy." 
Oxford Innovation manages Fareham Innovation Centre on behalf of the Council.  Stephen Brownlie, Oxford Innovation's Regional Manager (Solent) said: "Occupancy is already 20% at the extension and the level of interest is high from start-ups, early-growth firms and scale-up companies in the marine, engineering and aerospace sectors.
"We anticipate 50% occupancy at the extension by autumn and all five workshops, which are suitable for light manufacturing and engineering, have been snapped up."
The £7M project has been developed and funded by Fareham Borough Council, and supported with £2M funding from the Solent Local Enterprise Partnership (LEP) through HM Government's Local Growth Fund.
Chairman of Solent LEP, Gary Jeffries said: "I'm delighted to celebrate the opening of the second phase of the Innovation Centre, a key part of the Solent Enterprise Zone which is going from strength to strength. Not only does the Centre provide much needed additional office and workshop space but also conference facilities for many local businesses.
"We look forward to the continued revitalisation of Daedalus and making this Enterprise Zone a real focus for growth, ideas, and innovation."
For more information please visit: https://www.fareham-ic.co.uk/ 

.
ENDS
For further information contact:
The Communications Team, Tel: 01329 824310
fax: 01329 550576, e-mail: publicity@fareham.gov.uk
Keep in touch on the go
'Like' us on Facebook 

'Follow us' on Twitter