Press Release
14 February
Funtley and Warsash play areas revamp!
Fareham Borough Council is delighted to announce that we will be working with HAGS SMP Ltd to make Funtley and Warsash play areas even better.
At Funtley, brand new equipment will be added in the empty grass area within the play area including a climbing wall, basket swing, multi climbing unit and more. New pieces of gym equipment will also be installed along the pathway for adults and teenagers to enjoy while the children are playing.
At Warsash, the play area will be extended and made bigger to include additional equipment such as a toddler multi climbing unit, inclusive roundabout and, for the first time in Fareham, we will be installing some climbing sticks for the older children. 
As well as this, existing equipment at both play areas will be freshened up with a lick of paint! It is anticipated the refurbishments will be completed by the summer.
Executive Member for Leisure and Community, Cllr Sue Bell, said: "We are thrilled with the final designs for both play areas which were influenced by residents following consultations that took
place last year. The new equipment for the play areas means that more children of different ages and abilities can enjoy outdoor play."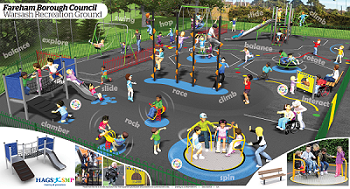 More information about the designs can be found on our website: http://www.fareham.gov.uk/leisure/ 
ENDS
For further information contact:
The Communications Team, Tel: 01329 824310
fax: 01329 550576, e-mail: publicity@fareham.gov.uk
Keep in touch on the go
'Like' us on Facebook 

'Follow us' on Twitter