Press Release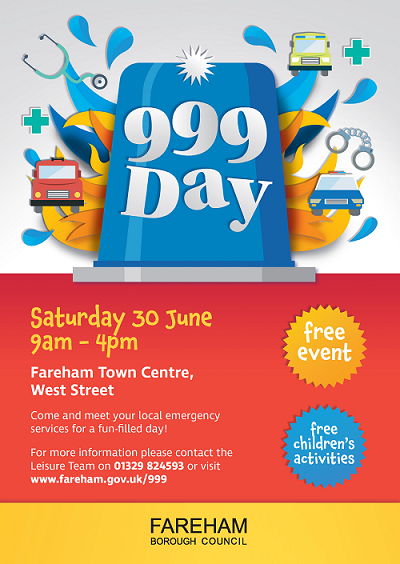 20 June 2018
Meet your local heroes!
Come and meet your emergency service heroes at 999 Day on Saturday 30 June in Fareham Town Centre, from 9am – 4pm.  
You will have the chance to chat to your local emergency service teams including the Police, Paramedics, Fire service, RNLI and Coastguard. Emergency service vehicles will also be on display, old and new! 
There will even be the chance to try on the some of the service uniforms, and sit in the vehicles.
Executive Member for Leisure and Community, Cllr Sue Bell, said "If your little one has always wanted to meet a hero, then this event is the perfect opportunity! Not only does it celebrate the work of our emergency service teams, but it is a fun day out for the family."
For more information about this event please contact the Leisure and Community Team 01329 236100 or email leisure@fareham.gov.uk.
If you own an emergency vehicle or are part of an emergency service team and would like to have a stand at the event please contact the Leisure and Community Team above.
Events like this help bring visitors to Fareham Town Centre, giving an important boost to local trade. Last year approximately 6000 people attended our town centre events.
ENDS
For further information contact:
The Communications Team, Tel: 01329 824310
fax: 01329 550576, e-mail: publicity@fareham.gov.uk
Keep in touch on the go
'Like' us on Facebook 

'Follow us' on Twitter