Press Release
03 October 2018
'Let's lose this litter'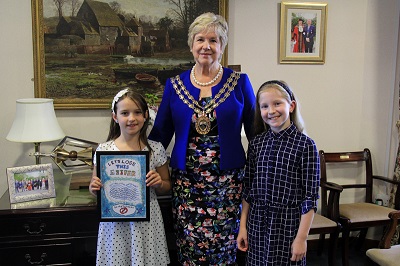 Residents will soon notice some new posters around the Borough, encouraging people not to drop litter. The posters have been designed by two nine-year-old friends, Faith Fairman and Bethany Ternan, who wrote to us recently about litter dropped near Faith's home in Fareham.
The two young girls sent us a poster they had drawn and we liked it so much it has now been made into artwork for all 42 of our notice boards.
Executive Member for Streetscene at Fareham Borough Council, Cllr Simon Martin, said: "Thankfully most people do pick up their litter. However, when people don't it affects everyone and ruins our open spaces. It's good to see residents as young as Faith and Bethany showing community awareness – hopefully their poster will encourage people not to drop litter and to keep our Borough clean!"
As a thank you for their hard work, Faith and Bethany were invited to the Mayor's Parlour last week, where they were presented with Litter Champion certificates and a framed copy of their poster.
Fareham Borough Council's Enforcement team can issue a £80 on the spot fine, known as a fixed penalty notice, if they see someone littering. There is the possibility of prosecution and a fine of up to £2,500 if the original fine isn't paid.
ENDS
For further information contact:
The Communications Team, Tel: 01329 824310
fax: 01329 550576, e-mail: publicity@fareham.gov.uk
Keep in touch on the go
'Like' us on Facebook 

'Follow us' on Twitter