Press Release
23 May 2017
Mayor unveils lifesaving new defibrillator
The Mayor of Fareham, Cllr Geoff Fazackarley, has today (23 May) unveiled a new defibrillator at Portchester Community Centre.
The lifesaving piece of equipment has been provided as part of an initiative by the Council to see them installed in public buildings across the Borough.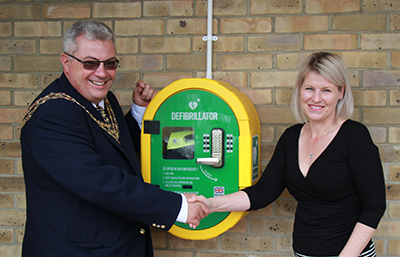 Some centres have received funding from the Council, others have had help with installation and staff training. The aim is to ensure that every Council owned community centre has its own machine. Youth groups and local residents have also been trained to use the defibrillators in case of emergency.
Mayor of Fareham, Cllr Geoff Fazackarley, said: "Each year 75,000 people die from sudden cardiac arrest in the UK, however chances of survival increase dramatically if someone is treated with a defibrillator quickly. It's fantastic that we have able to support the installation of this life-saving equipment across the Borough, it gives peace of mind knowing that they are available should they be needed."
Carol Mertens, manager at Portchester Community Centre, said: "We're delighted to have this new defibrillator installed, it's an important safety asset for the local community. As a busy community centre, with activities for young and old, it's reassuring to know the defibrillator is here if needed. Several members of our staff have already taken the training to use the defibrillator, and because it is situated on the outside of the building it is available for use in the wider area too." 
There are also defibrillators in the Civic Offices, the Depot in Wallington and Ferneham Hall. Fareham Borough Council has been running a series of training sessions for its own staff in how to use these machines, which more than 80 officers have taken part in.  
ENDS
Notes to editors:
A photo is attached. Pictured are the Mayor of Fareham, Cllr Geoff Fazackarley, and Carol Mertens from Portchester Community Centre.
Defibrillators are located in the following Council owned buildings:
Ferneham Hall
Fareham Borough Council's Civic Offices
Fareham Borough Council's Depot in Wallington
Abshot Community Centre
Burridge Community Centre
Crofton Community Centre
Fareham North West Community Centre
Lockswood Community Centre
Portchester Community Centre
Ranvilles Community Centre
Titchfield Community Centre
Whiteley Community Centre
If you'd like to find out where the nearest defibrillator is located you can download the Save a Life app from The South Central Ambulance Service. The map is constantly being updated as new facilities are installed across the Borough and is available via this link: https://www.scas.nhs.uk/news/campaigns/savealife/ 

For further information contact:
Lorna Tipper, PR and Marketing Officer, Tel: 01329 824518
fax: 01329 550576, e-mail: publicity@fareham.gov.uk
This and previous media releases can be viewed on the Council's website: www.fareham.gov.uk/pressreleases
Keep in touch on the go
'Like' us on Facebook 

'Follow us' on Twitter