Press Release
24 July 2018
Green parks in Fareham named the best in the country
Two of Fareham's parks have been named as the best in the country after receiving prestigious Green Flag Awards.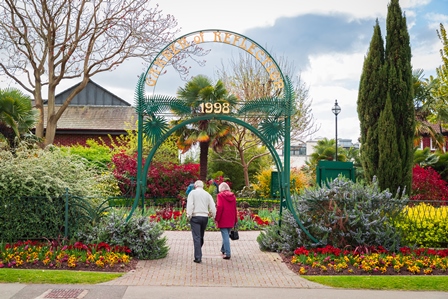 Holly Hill Woodland Park and The Sensory Garden in Fareham town centre have received the recognition for the 11th and 9th year in a row.
The awards, now in their third decade, recognise parks and green spaces which boast the highest possible environmental standards, are beautifully maintained and have excellent visitor facilities.
Executive Member for Streetscene at Fareham Borough Council, Councillor Simon Martin, said: "I am delighted that two of our parks have once again received Green Flag Awards. We know how much quality green spaces matter to our residents and visitors, and this award celebrates the dedication and hard work that goes into maintaining them to such a high standard, especially during this very dry spell. Well done to all involved!"
International Green Flag Award scheme manager Paul Todd said: "We are delighted to be celebrating another record-breaking year for the Green Flag Award scheme, with more Green Flags awarded this year than last year." 
"Each flag honours the thousands of staff and volunteers who work tirelessly to maintain the high standards demanded by the Green Flag Award. We are proud to have so many wonderful green spaces in the UK for people to enjoy, and hope that next year, we award even more flags."
All award-winning sites from the Green Flag scheme can be found here: http://www.greenflagaward.org/ 

ENDS
For further information contact:
The Communications Team, Tel: 01329 824310
fax: 01329 550576, e-mail: publicity@fareham.gov.uk
Keep in touch on the go
'Like' us on Facebook 

'Follow us' on Twitter