Press Release
29 March 2017
Little litter pickers clean up!
Fareham Borough Council would like to thank Wicor Primary School, after pupils took part in a littler pick at Portchester shore last week.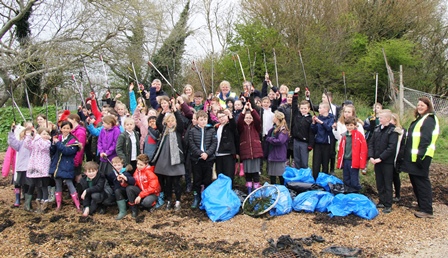 64 year 4 children helped to collect 10 bags of waste, which were then taken away by the Council's Streetscene team.
Cllr Tiffany Harper, Executive Member for Streetscene at Fareham Borough Council, said: "We're very grateful to pupils at Wicor Primary for their hard work. This is a great example of young people doing their bit for the community and helping to keep the Borough clean. If any other schools or community groups would like to carry out their own litter picks, please contact us as we can offer help and support. Litter spoils the area for everyone and as a Council we're committed to tackling it."
Mr Mark Wildman, Headmaster of Wicor Primary School, said: "Our school is close to the Wicor shore and Fareham Creek, which are recognised as areas of high ecological importance. By gaining this hands on practical experience the children are learning first-hand the impact litter has on their surroundings. Hopefully this will enable them to develop informed, environmental opinions that will make a positive difference to our future."
Later in the year Fareham Borough Council will be launching an anti-litter campaign. The Council spends approximately £920,000 per annum on street cleansing which includes litter picking, emptying bins and collecting fly tip. Further activities will take place across the summer to help spread the message, encouraging residents to take responsibility for their rubbish.
ENDS