Beach management
Coastal protection
We do not own the beaches and slipways but hold a lease from the Crown Estate. We have permissive powers under the Coast Protection Act 1949 for coast protection - the protection of land from erosion or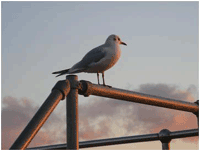 encroachment by the sea. The Department for Environment, Food and Rural Affairs is responsible for coastal protection within the Borough. A joint coastal defence strategy 

 has been produced by Southampton City Council, Eastleigh Borough Council and Fareham Borough Council.
Water quality
Each week the Environment Agency takes samples of the local sea water. After testing, the water quality results are sent to Fareham Borough Council and displayed in designated notice boards at Salterns beach and Monks Hill beach. A rating of 'poor, good or excellent' is given. The water around the Fareham foreshore has always complied with the standards of the Bathing Water Directive.
Restrictions and Prohibited Activities
Byelaws
There are specific byelaws that relate to the seashore, details of which can be found in the Seashore Byelaws

(325 KB) document.
Metal Detecting
Anybody wishing to carry out metal detecting on our foreshore on land owned by the Crown Estate should refer to their website 

for information.
Bait Digging
In 2001, a Special Nature Conservation Order (SNCO) was placed on the northern part of Fareham Creek to prevent commercial bait digging activity from occurring. Bait digging for personal use is permitted and indeed, is part of the Magna Carta right to fish. Commercial digging however, is illegal within the SNCO area.

Natural England consider that the collection of approximately 3lb of worms represents an amount permitted for personal use.
Dogs
National law states that dogs should be kept under control at all times, and any dog waste should be deposited in the many dog bins provided. In addition, at Salterns and Monks Hill

(991 KB) beaches, dogs are not allowed on the beach between 1 May and 30 September each year.
For more information please contact Customer Services on 01329 236100 or email customerservicecentre@fareham.gov.uk.