Coastal protection
Overview
The Borough's coastline has a diverse range of landscapes and seascapes, including estuaries, salt marshes, soft cliffs and shingle beaches. It is defended along much of its length, reflecting the substantial urban population living within the coastal zone.
The historical trend in coastal defence has been for progressive construction of walls, groynes and other 'hard' structures to prevent erosion and flooding. These have caused considerable modification to natural coastal processes. The most significant trend affecting future shoreline management is sea level which is estimated to be rising at a rate of about 5-6mm per year. One of the main effects of this on defended coasts will be a loss of intertidal habitats as they are squeezed against coastal defences.
The Borough's coast is internationally important for nature conservation and this is recognized through a series of national, European and international designations. Human activity can have significant impacts on ecology. In recent years, the long term problems created by uncoordinated coastal defence policies have been acknowledged. To help redress these problems SCOPAC (Standing Conference on Problems Associated with the Coastline) was set up in 1986 to provide a forum for co-ordinating coastal defence policy and to promote sustainable shoreline management. We are an associate member. In 1993 the strategy for flood and coastal defence in England and Wales produced by MAFF (now DEFRA) set out guidelines for coastal authorities so that coast defence works should comply with the local shoreline management plan. This Borough is covered by the North Solent Shoreline Management Plan (2010) 

.
Responsibilities
Land owners are responsible for protecting their property from erosion and flooding but must act within applicable statutory planning and other legislation (private defences are unlikely to be eligible for public funds). The Environment Agency has powers under the Land Drainage Act 1991, Water Resources Act 1991 and byelaws for Sea Defence. The Environment Agency's consent is needed for any of these activities in a coastal zone:
Works in, on, under or over a main river* or within the byelaw width of 8m
Works within 15m of a sea defence
Works to fill, divert, obstruct or culvert an ordinary watercourse.
*  Main river would include Portsmouth Harbour and rivers including the Hamble, Meon and Wallington.
Under the Coastal Protection Act, we have powers to protect land from erosion or encroachment by the sea. We would need consent from the Environment Agency and Marine Management Organisation (MMO) for any private or public defence activities including:
Construction, alteration or improvement of any works on, under or over any part of the seashore lying below MHWS
Depositing any object or any materials on any part of the seashore
Removal of any object or materials from any part of the seashore below the level of MLWS
If the operation (while being carried out or subsequently) causes or is likely to result in obstruction or danger to navigation.
In addition, local authority planning consent is needed for any development, to low water mark, as defined within section 55 of Town and Country Planning Act 1990 including change of use, engineering operations, building works etc.

Other marine consents that you may need to consider when undertaking activities in the coastal zone (below MHWS) are:
FEPA Licence (MMO) - deposition and disposal of substances at sea and placement of piles or materials during construction
Harbour Authority consent - required where activity takes place within a harbour or the method involves work within the harbour limits
Waste management licence ( Environment Agency)
Discharge consent (Environment Agency)
Listed building consent and conservation area consent (local planning authority)
Building regulations authority (local planning authority)
For more information on marine consents, see the Solent Forum marine consents guide 

.
Fareham Borough Council and the Environment Agency have permissive power for sea defence and coast protection under these acts:
Coast Protection Act 1949
Land Drainage Act 1991
Water Resources Act 1991
In general, we and the Environment Agency will only act if there is an economic benefit, an appropriate engineering solution is achievable and environmental legislation is not contravened.

The Environment Agency www.environment-agency.gov.uk 

 is the Government department with overall policy responsibility for flood defence and coast protection in England. One of its main aims, by helping and encouraging the building of defences, is to prevent flooding and coastal erosion.
Eastern Solent Coastal Partnership
The Eastern Solent Coastal Partnership formed an alliance in 2012 to deliver a combined, efficient and comprehensive coastal management service across the coastlines of four Local Authorities including: Havant Borough Council, Portsmouth City Council, Gosport Borough Council and Fareham Borough Council.
The innovative initiative was driven forward by a need for coastal management that recognises coastal flooding and erosion risk impacts are not exclusive to Local Authority boundaries.
The overarching vision of the ESCP initiative is to reduce the risk of coastal flooding and erosion to people, the developed and natural environment by encouraging the provision of technically, environmentally and economically sustainable coastal defence and protection measures.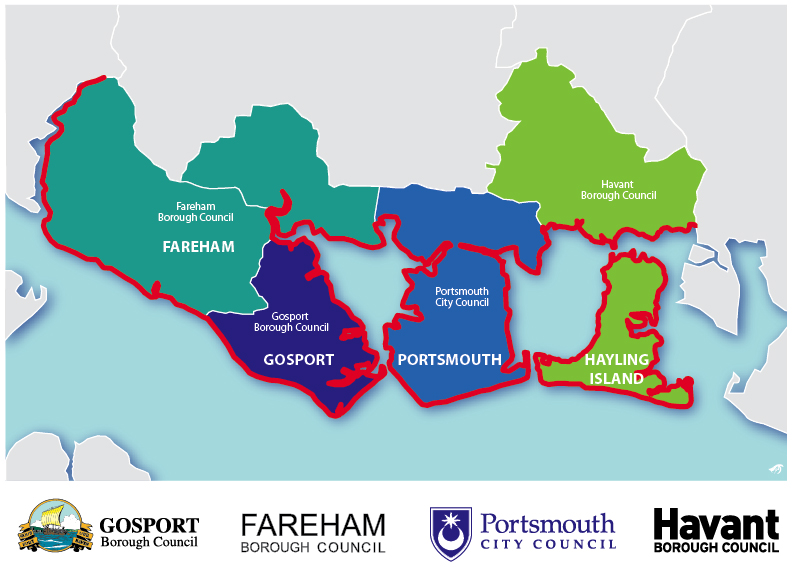 To learn more about the work we undertake, our key projects and our latest news  please visit our new ESCP website - http://www.escp.org.uk  

Residents can sign up for regular newsletters  

from the ESCP about projects across the Borough of Fareham.
Coastal defence strategies
Defence strategies consider work on the coast and the wider implications to sediment processes and the environment. They look at schemes in greater detail then shoreline management plans and provide a foundation for funding applications to central Government for capital schemes.

Fareham's coastline is covered by three coastal defence strategies:
Portchester Castle to Emsworth draft coastal flood and erosion risk management strategy
No final decisions have been made on the Portchester Castle to Emsworth draft coastal and erosion risk management strategy

(1 MB) but the strategy is in the final stages and nearing completion.
Itchen to Hamble coastal defence strategy
Mouchel Parkman has been commissioned by a partnership of Southampton City Council, Eastleigh Borough Council and Fareham Borough Council to develop a 'Coastal defence strategy' 

 for the sustainable management of coastal defences. The study front includes the east bank of the River Itchen as far upstream as Woodmill, the Weston, Netley and Hamble Le Rice frontage and both banks of the River Hamble as far upstream as the Bursledon railway bridge. The strategy has now been accepted by the Environment Agency.
River Hamble to Portchester Castle coastal defence strategy
We are working with the Havant, Portsmouth and Gosport Coastal Partnership to develop a coastal defence strategy for the majority of Fareham's coastline. Funding has been granted by the Environment Agency and work will begin in late 2011. This strategy will inform future defence schemes on Fareham's open Coast and Harbour coastline.

References:
For more information on coastal management, contact the Eastern Solent Coastal Partnership