Sponsoring a roundabout
We are committed to making the Borough an attractive place to live, work and visit as part of our award winning Fareham in Bloom campaign.
By inviting companies or organisations to sponsor roundabouts, we can create a better, more attractive and welcoming environment for the area. We offer a range of roundabout locations at an affordable price. Money raised is used to maintain the roundabout and make other environmental improvements around the Borough.
Sponsoring a roundabout is a cost effective way to promote your business by putting your company's name in front of thousands of people every day. We will help you get the most of this by:
Finding the best location for your business needs and target markets
Maintaining the roundabout site so you won't have to worry about grass getting long or seasonal plants losing their splendour
Design your signage so that it combines impact and readability with our requirements
This will help you to: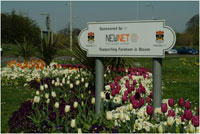 Enhance your local environment for residents and visitors
Gain a valuable reputation for benefitting your local community
Build a working partnership with your local council
Support a well established and respected community gardening campaign.
We have recently simplified the costs of sponsorship. We are offering the opportunity to part sponsor a roundabout with a single sign on it (a location of your choice, subject to availability) for £1,200 per annum. Included in this is the purchase and installation of your sign with your company logo. We are also offering a small discount for multiple signs as some roundabouts can accommodate as many as four signs.
Main roundabouts that are available to sponsor (Those highlighted bold are now fully taken)
Telford Way, Segensworth
Segensworth - currently sponsored by Commerical Lighting , Fareham Shopping Centre  and Friary Meadow Care Home  
St. Margaret's, Titchfield - currently sponsored by Friary Meadow Retirement Village  and St Margaret's Nursery  
Station, Fareham South (Fareham Train Station) currently sponsored by Boundary Oak School 
Quay Street, Fareham North (Tesco)
Delme, Fareham East - currently sponsored by Serenity Dental Care , Glanvilles , Fareham Creek Vets  
Cornaway Lane (Seagull), Portchester West
West Street, Portchester Central
Castle Street, Portchester East  - currently sponsored by Portchester Community School 
North Hill, Fareham North
Mays Lane, Stubbington - currently sponsored by Crofton Home Improvement Centre 
Red Lion, Stubbington - currently sponsored by Boundary Oak School   and Crofton Home Improvment Centre 
Longfield Avenue, Fareham West - currently sponsored by A2B Financial Servcies  
Collingwood, Fareham South
Brook Lane / A27, Sarisbury - currently sponsored by A H Freemantles  and Whiteley Dental Practice 
Botley Road / A27, Park Gate - currently sponsored by Commercial Lighting  and Whiteley Dental Practice 
Titchfield Gyratory, Titchfield
Wickham Road, Fareham East - currently sponsored by Boundary Oak School 
Broadcut, Fareham East
Peel Common, Stubbington
Peak Lane, Fareham West
Crompton Way, Locks Heath
A32 - Knowle Village - currently sponsored by Biscoes Solicitors 
Gosport Road/Mill Lane - currently sponsored by Fareham Shopping Centre 
 
There is a number of other smaller roundabouts and larger verge areas that can be considered for sponsorship. If you have a location in mind then please contact us.
Other sponsorship opportunities
Other opportunities you might like to be involved with include:
Fareham in Bloom - the award winning community gardening campaign that encourages residents, businesses and schools to take part in improving their environment and support community gardening projects
Community tree and bulb planting schemes
Seats, benches and other items of street furniture
Leaflets and guides produced by the parks department
If you would like to sponsor a roundabout, please email parks@fareham.gov.uk. Should you require further information in relation to the above please contact Customer Services on 01329 236100 or email parks@fareham.gov.uk.
 
Roundabout Sponsorship Frequently Asked Questions
Here is a list of Frequently Asked Questions regarding the sponsorship of roundabouts. If you have any further questions that have not been answered below please contact the Horticulture Development Officer on parks@fareham.gov.uk or call 01329 236100.
How much does it cost?
We are offering the opportunity to part sponsor a roundabout in return for a single sign that would be strategically placed on a roundabout (of your choice but subject to availability) for maximum effect for the sum of £1,200 per annum.
What does the sponsorship costs include?
The cost of sponsorship includes the maintenance of the roundabout and the design and installation of signage.
Does the cost of sponsorship include VAT?
No, the costs shown are exclusive of VAT.
How big are the signs and what do they look like?
The signs are 1000mm in length and 300mm in height. They are supported by two metal posts securely installed into the ground. You can see an example below.


What happens if my signage is sprayed with graffiti?
If this happens, we will clean it for you at no cost. Our cleansing team aims to remove any offensive, racist or other hate-related graffiti within one working day. All other graffiti will be removed within five working days.
 
What happens if my signage is damaged or destroyed?
If your signage is knocked over by a car but remains in tact, the sign will be reinstated to the roundabout at no extra cost to the sponsor.
If the signage is completely destroyed or is not able to be repaired then the council will replace this signage on one occasion only. If the signage is damaged beyond repair on more than one occasion, the sponsor will have to pay for the signs to be replaced.
Please be aware that damage to roundabout signage is a very rare and does not happen on a regular basis.
What happens if our company logo changes half way through sponsorship period.
The design of the sign can be redone but all costs incurred will have to be passed onto the sponsoring company.
If I sponsor more than one sign will I receive a discount?
Yes, if you decide to sponsor more than one sign you will receive a discount.
Is there a minimum length of contract when sponsoring a roundabout?
We are flexible on the length of time a roundabout can be sponsored for but there is a minimum length of one year. After that time, you will have first refusal as to whether you wish to renew your agreement. If you would like to renew it, we will draw up another agreement with you.
How do I make the payments?
We require the full amount in advance. If the sponsorship is large, we can negotiate special arrangements.
Who arranges for the signs to be made and installed?
We will arrange for the sign to be made and installed. You will need to supply your logo in a high resolution format and approve the design proof before the sign is produced.
Can I make or install my own signs?
No, we will arrange this work so that it meets the Highway Authority's criteria and is consistent throughout the Borough.
What can I have on my sign?
You can display your logo plus a small amount of text such as a web address or business location. Highway regulations do not permit use of telephone numbers.