Hill Head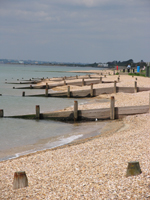 South of Stubbington, Hill Head is an attractive residential area with a nice shingle beach and forms Fareham's boundary with the sea. Until 1900 it consisted of just a few cottages and fishermen's sheds at Titchfield Haven. The village is a starting point for some fine coastal walks - eastwards to Lee-on-the Solent and west to Meon shore and the River Hamble estuary. It is more rural than its neighbour, Lee-on-Solent.
Around 1,000 acres of farmland to the west of Hill Head is managed as a nature reserve called Brownwich and Chilling. There are many footpaths and Brownwich Pond lies in the centre of the reserve, excellent for spotting wildfowl and waterlilies.
The Hill Head shore overlooks the Solent, one of the busiest sea lanes to and from the English Channel. Only a few miles across the water is the Isle of Wight and Queen Victoria's former residence, Osborne House, which is visible from Hill Head beach.