River Hamble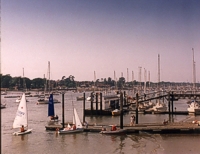 Some of the most important boatyards in the country are beside the River Hamble, together with chandlers, inns and restaurants of all kinds. It is an attractive area for sailing and the river is usually full with craft of many kinds. To the north of the bridges carrying the railway and M27 motorway, the river is much quieter in comparison. There is an attractive footpath along the eastern bank of the river.
On the west bank of the River Hamble lies Hamble village, a pleasant combination of old and new buildings, waterside inns and restaurants, boatyards and moorings. It was an active fishing port until World War 1 and was famous for its oysters. The main street is lined with Georgian cottages and inns. Rope Walk Street is named in tribute to the rope-making industry that used to be here. Copperhill Terrace was named after the coppers in which the tar for preserving the ropes was boiled. The Bugle Inn, part 17th century, claims its foundations were laid more than 800 years ago. At the top of the street there is a church, partly Norman, and in the graveyard lies the grave of Sir Alliott Verdon-Roe, one of the first Englishmen to fly and founder of the aircraft firm of Avro which was based at Hamble in 1914. There has been a ferry to Warsash for several hundred years and it now takes cyclists and foot passengers.
Further north on the west bank beside the river is the local country park, with an expanse of woodland, tidal river banks and a collection of historic farm buildings where regular fairs and exhibitions are held.
Fareham has a long history of brickmaking and the local red bricks known as 'Fareham Reds' were used for many famous buildings, including the Royal Albert Hall (1871) in London. To the east of the River is the former Bursledon Brickworks, site (built in 1897) which is now also part of NATS's Air Traffic Control Centre. The southern part of the brickwork's site has been retained and converted into a museum for the brick-making industry. It is open to visitors at certain times.