Stubbington
Stubbington lies to the south of Fareham, separated from the main part of the town by open farmland. It has some attractive areas of modern housing and a village shopping centre built around a small green. Stubbington is closely linked with Crofton which is adjacent to it. In 1912 Stubbington consisted of a few dozen cottages and farms on flat countryside. Over the years, as a result of damage sustained during the Second World War and also because of an intensive building programme, the village has undergone a complete transformation.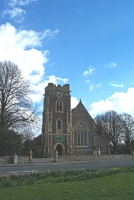 To the east of Stubbington, on the borough boundary with Gosport, is the former Royal Naval air station of HMS Daedalus. From here a helicopter search and rescue service operates along much of the South Coast.
The church
The old Holy Rood Church at Crofton is one of the oldest buildings in the area. It was mentioned in the Doomsday Book and it is believed to date back to the reign of King Alfred in the 9th Century. It is believed to have caught the eye of Samuel Pepys in 1662 and was extensively renovated during the 13th Century. A new church was built in Stubbington which took over the function of Crofton Church in 1878 .
The community centre
The village Community Centre occupies the site of the former 'Stubbington House School', founded by the Reverend William Foster in 1841. The school moved to Ascot in 1962.
Stubbington House, an attractive Queen Anne building which sat in the position now occupied by the tennis courts, was demolished in 1967.
Two of the buildings associated with the school are still in use - the assembly hall is used by the scouts and the Community Centre incorporates a classroom block. The attractive parkland south of the village centre, which makes such a valuable contribution to the character of the village, originally provided the setting for the house.
The war memorial and village pump
In 1922 a wooden War Memorial was built to commemorate those from Stubbington and Hill Head who fell in the World War. Their names were carved into the roof of the memorial although over the years they have been worn away. The Memorial takes the form of a shelter over the village pump and today it is one of the very few pre-war erections standing in the vicinity of Stubbington Village Centre.