Tree Avenue Harper Way (Completed 2006)
This avenue of London Plane trees was planted to soften views of the side wall of the Market Quay development and to provide an attractive entrance to the town centre from the bus station.
The intention was to create the feeling of a French boulevard, using French pedestrian barriers and resin bonded gravel surfacing.
The trees are floodlit using angled up-lighters set in the paving to create a dramatic night time entrance to the town centre.
Before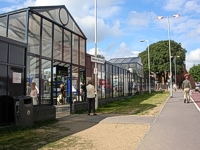 After