Eastern End of West Street Fareham
The completion of the improvement scheme at the western end of West Street in 2008 highlighted the need to improve the eastern end of West Street. Fareham Borough Council's Executive allocated £250,000 for the scheme and Hampshire County Council's Regeneration of Older Urban Areas Initiative contributed a further £100,000.
Following public consultation between the 23rd June and the 31st July 2009, an amended layout plan addressed concerns raised during consultations. The layout was amended as follows: The existing Quay Street pedestrian crossing between The Market Tavern and Café Tusk was upgraded to include pedestrian wait panels with request buttons. The full length of the existing bus lay-by was retained with the kerb slightly re-aligned to provide a wider gap between the bus shelter and the shop frontages. The bus shelter remained in the same location but is larger and more transparent to allow views through the shelter to shop frontages. The number of trees was reduced from five to one to reduce the screening effect on shop frontages. Two seats have been provided for coach users. Banners were added to two lamp columns.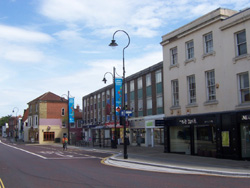 For further information please contact the Landscape Architect on 01329 236100 or email conservation@fareham.gov.uk