Closed Circuit Television (CCTV)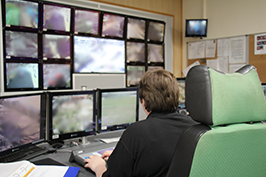 Fareham Borough Council has undertaken a review of the CCTV function and upgraded cameras within the town centre. Deployable cameras have also bee purchased and will move from location to location depending on demand in consultation with local ward councillors. It is hoped that this initiative:
Provides a deterrent to crime and anti-social behaviour
Increases public reassurance by reducing the fear of crime
Gathers evidence to support detection of and prosecution for offences
Helps in general planning and management of areas of CCTV coverage
Helps traffic monitoring (ROMANSE)
Helps us manage public areas for the wellbeing of our communities and supports initiatives like prevent violence against women and girls
Helps to manage our assets
Helps to track and apprehend people suspected of committing a crime.
Confidentiality
The purpose of CCTV is for public safety and the prevention and detection of crime. 
Locations that have CCTV have clear signage notifying of its operation and details of who to contact for further information.
CCTV images are only disclosed to third parties for the purposes as stated above and will not be released to residents, the media for entertainment purposes or to be placed on the internet or for commercial sale.  Third parties must provide adequate grounds for the disclosure of the data for the above stated purposes.
Images captured by CCTV will be kept for 30 days
Requests for access to data from the CCTV System can be made to Fareham Borough Council using this form: Subject Access Request (fareham.gov.uk)

(175 KB)
Please note this request only allows you to access footage which captures your own personal data. It cannot contain images of third parties or images that would identify third parties (e.g. car registration).
The camera movements are strictly controlled and are limited by the Human Rights and Data Protection Acts. The way the cameras are set up prevents staff from invading the privacy of residents in their homes. We have copyright and ownership of the recordings and access is strictly controlled. For example, if someone bumps a car and the owner wanted to see if it was recorded by the CCTV camera, they would need to either contact the police dealing with the matter or their solicitor or insurance company.