Closed Circuit Television (CCTV)
We operate and share running costs of a CCTV control centre with Gosport Borough Council. It is monitored at various times during the day, seven days a week.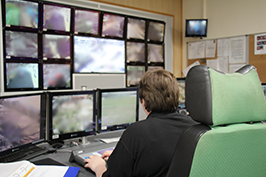 CCTV upgrade
The equipment has been upgraded and now includes a new command & control system, with mapping and display of the Borough's camera locations. Keyboard and joystick controls allow operators to manage cameras to suit operational needs. The new digital recording system records every camera at 12.5 images per second. In addition, the six operator monitor's video is recorded in real time (25 images per second) to ensure best quality for any incidents monitored.  The police are also able to review recorded images to determine if evidence is available for specific incidents they are investigating. We also use the cameras to monitor traffic through the ROMANSE (Road Management System for Europe) system with Hampshire County Council.
CCTV cameras
We, the police and Fareham Community Safety Partnership continually assess the need for CCTV cameras. Cameras are installed as and when necessary for the benefit of our residents and to help police prevent and reduce crime. There are currently 44 CCTV cameras within the Borough, linked into the main control centre with 'stand alone' systems at some local community centres. Use of the CCTV cameras:
Provides a deterrent to crime and anti-social behaviour
Increases public reassurance by reducing the fear of crime
Gathers evidence to support detection of and prosecution for offences
Helps in general planning and management of areas of CCTV coverage
Helps traffic monitoring (ROMANSE)
Helps us manage public areas for the commercial well being of our communities
Helps the police with information gathering and effective deployment of resources
Improves commercial confidence
Helps emergency services deploy resources efficiently and deal with emergencies
Helps to manage our assets
Helps to track and apprehend people suspected of committing a crime.
Hot spots
CCTV cameras are often located in 'hot spots' – areas that because of the level of reported crime need additional surveillance support to detect crime and reduce fear of it.
A full list of camera locations is below:
Portchester
Car Park
Lorry Park
Iceland (Rear)
Tandoori Alley
Red Lion
Red Lion (Rear)
Threshers
Roundabout West
 
Stubbington
Budgens (Village Green)
Mays Lane
Budgens (Rear)
Library
Community Centre
Red Lion
Other Locations
Civic Office Roof (West)
Civic Car Park West
High Street Red Lion
Highlands Road
Lysses Car Park (Centre)
Lysses Car Park (Exit)
Lysses Car Park (Entrance)
Civic Office Roof (South)
Bishopsfield Road
Broadlaw Walk Precinct
Argos
Poundland
Museum Gardens
Precinct Door (West)
Precinct Door (Central)
Precinct Door (East)
The Crown
Bus Station (North)
Bus Station (South)
Hartlands Road
Market Quay Car Park
Fareham Quay
Trinity Church
Fire Station Roundabout
United Reform Church
West Street Connexions
West Street Swintons
Tesco Quay Street
Tesco Eastern Way
Council Depot
 
Confidentiality
The Fareham and Gosport CCTV Partnership operates a CCTV system which has CCTV cameras located in some of the public open space areas in the Boroughs. The purpose of CCTV is for public safety and the prevention and detection of crime. 
Locations that have CCTV have clear signage notifying of its operation and details of who to contact for further information.
CCTV images are only disclosed to third parties for the purposes as stated above and will not be released to the media for entertainment purposes, to be placed on the internet or for commercial sale.  Third parties must provide adequate grounds for the disclosure of the data for the above stated purposes.
Images captured by CCTV will not be kept for longer than is necessary and the monitoring, use and retention of CCTV images is carried out in accordance with the Fareham and Gosport CCTV Partnership Code of Practice.
You have the right to see CCTV images of yourself and be provided with a copy subject to certain criteria. Requests for access to data from the CCTV System can be made to Fareham Borough Council using this form: subject access information. 
Please note this request only allows you to access footage which captures your own personal data. It cannot contain images of third parties or images that would identify third parties (e.g. car registration).
The camera movements are strictly controlled and are limited by the Human Rights and Data Protection Acts. The way the cameras are set up prevents staff in the control centre from invading the privacy of residents in their homes. We have copyright and ownership of the recordings and access is strictly controlled. For example, if someone bumps a car and the owner wanted to see if it was recorded by the CCTV camera, they would need to either contact the police dealing with the matter or their solicitor.
Code of practice
A code of practice has been drawn up and agreed by the interested parties to govern the way we manage the control centre and CCTV facilities. It aims to ensure the most effective use of CCTV to prevent crime, identify people who commit crime and uphold the civil liberties of local residents, shoppers and other genuine users of the town centre. Management of other Council remote systems and those maintained by private security and other bodies is in accordance with the relevant provisions of this Code.
The Office of Information Commissioner has issued a code of practice for users of public area CCTV systems 

. You can get a copy from the CCTV manager on 01329 236100 or by e-mail at communitysafety@fareham.gov.uk.
Upon request of the Surveillance Camera Commissioner, Fareham Borough Council has completed a self-assessment tool

(305 KB) in order to identify compliance with the 12 guiding principles of the surveillance camera code of practice.
Request for more cameras
From time to time, we receive requests for additional cameras. Any more cameras will be installed in collaboration with the police and Fareham Community Safety Partnership.
For more information on CCTV, contact Fareham Borough Council on 01329 236100.