Garden waste
Garden waste collection service
We collect one sack of garden waste free from each household on the same day as we collect your recycling bin. If you prefer, you can take your garden waste to a household waste recycling centre

 or try home composting (see the composting guide 

). You must not put garden waste in your refuse or recycling bins.
The service
The service collects garden waste, such as grass cuttings, hedge trimmings and prunings; including small branches up to 75mm in diameter. The maximum weight limit for a filled sack is 20kg (45lbs). Turf and soil are not accepted. No vegetable peelings or other waste from the kitchen is accepted.
You can search online to find out which day your recycling bin and garden waste sacks are emptied. After emptying your garden waste, the crew returns your reusable sack to your property. If possible, it helps if there is somewhere we can hang the empty sack or something to wedge it under to avoid it blowing away.
Reusable garden waste sacks
One replacement reusable sack is free of charge if you collect it or it can be delivered for a small charge. You can collect a sack from the Civic Offices during office hours. We only empty Fareham Borough Council garden waste sacks because we can be sure they are of the required standard. 
Disposable garden waste bags
You can buy disposable bags for extra garden waste but these will only be collected up to the end of December 2021. You can put out as many of these on collection day as you wish or you can share a pack with family and friends. We only collect Fareham Borough Council disposable garden waste bags.
 
What happens to the material?
The waste is taken away to be composted into soil conditioner called Pro-Grow 

. You can buy Pro-Grow from household waste recycling centres. It can be ordered bagged and delivered

 (with no delivery charge) to householders anywhere in Hampshire. Unfortunately regulations about Foot and Mouth Disease do not allow our garden waste collection service to include vegetable and fruit peelings from your kitchen. You can compost uncooked kitchen waste in a home composter.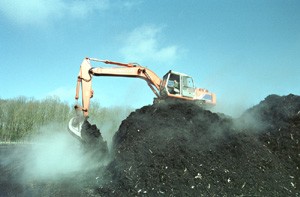 If you would like more information, please email customerservicecentre@fareham.gov.uk or telephone us on 01329 236100.