Garden waste
Garden waste collection service
You can sign up online to the subscription service to collect garden waste. If you prefer, you can take your garden waste to a household waste recycling centre

 or try home composting (see the composting guide 

). You must not put garden waste in your refuse or recycling bins.
The service
The service collects garden waste, such as grass cuttings, hedge trimmings and prunings; including small branches up to 75mm in diameter. Turf and soil are not accepted. No vegetable peelings or other waste from the kitchen is accepted.
What happens to the material?
The waste is taken away to be composted into soil conditioner called Pro-Grow 

. You can buy Pro-Grow from Household Waste Recycling Centres. Unfortunately regulations about Foot and Mouth Disease do not allow our garden waste collection service to include vegetable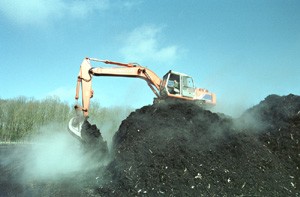 and fruit peelings from your kitchen. You can compost uncooked kitchen waste in a home composter.