Fareham Town Centre Regeneration
Fareham Town Centre is well connected for business, shopping and leisure, with facilities that attract people from across the Borough. Our aim is to build on the strengths of the town centre to make it an even more attractive place to live, work and visit.
The vision
We have outlined what we think the town centre should have:
Much needed housing with parking
A wider choice of shops
An evening economy
A better cultural, community and leisure offer
The right amount of parking in the right places
Improve the walkways and signage around the town centre
The vision focuses on five key areas within Fareham Town Centre, each with their own character.
You can explore any area that interests you by clicking on the map below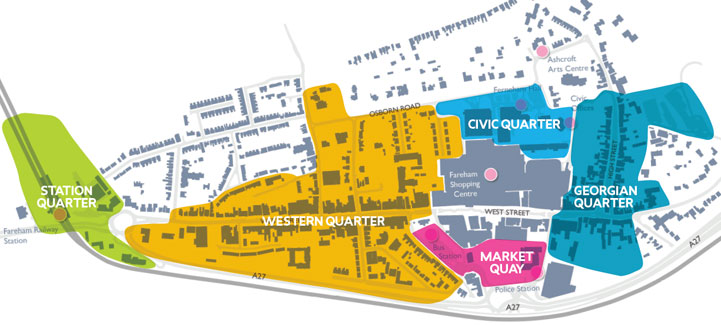 Working together
As a Council we have some, but not overall, control over all of the possible improvements that could be made.  We need to work together with the community, landowners, developers and our partners, like Hampshire County Council, to create the best possible town centre.
We ran a public survey, held a business breakfast and a series of consultation events in the town centre, as well as visiting Fareham College. Further information is available in the business breakfast presentation.
We have analysed the results of the consultation and have now published the final vision document, called 'Planning the Future of Fareham Town Centre'

(108 MB).