Understanding Climate Change
This page outlines what climate change is, and how it affects Fareham.
What is Climate Change?
Increase in average global temperatures as well as changes in normal weather patterns
This could mean increased storms and flooding as well as an increases in temperature
The BBC have produced a great glossary 

 explaining all the terms commonly used in climate change discussions. 
What have we got to do with Climate Change? 
Climate change is caused by the release of certain gasses into the atmosphere, these include carbon dioxide (CO2), methane and nitrous oxide
These gasses are released when we burn fossil fuels. Fossil fuels are burned for a number of reasons e.g. to heat homes, generate electricity and power cars
The build-up of these gases in the atmosphere effectively traps the sun's energy close to the Earth's surface and causes the Earth and particularly the oceans to warm
By reducing our emissions of these gasses, we can reduce the warming effect on the Earth
Other activities like deforestation and the manufacture of chemicals also contribute towards the increase of these gasses in the atmosphere
The government have a great webpage

 explaining the science behind climate change in more detail if you would like to find out more.

How Climate Change is affecting Fareham?
Nine of the top ten warmest years in the UK have occurred since 2002 and all of the top ten have occurred since 1990
These rising temperatures mean that Fareham will likely experience:

Hotter, drier summers 
Wetter, stormier, warmer winters
Greater risk of flooding
As a coastal location we are more vulnerable to rising sea levels than landlocked areas 
Carbon Footprints
When you hear people talking about Climate Change, you often hear the term 'Carbon Footprint' mentioned a lot
Your Carbon Footprint is made up of all the emissions that are caused by you in a given time period (usually a year), either directly, through activities such as driving, or indirectly, through emissions produced to create the things we consume, like food 
We have provided information on how our residents can reduce their carbon footprints on our dedicated resident webpage.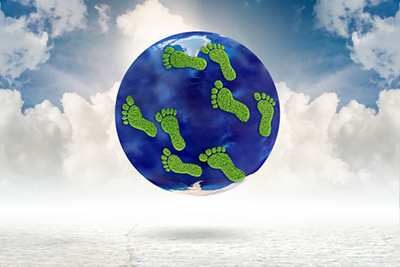 The Council's Carbon Footprint 
You can find out more about the Council's carbon emissions and what we are doing to reduce it on the dedicated Council Carbon Reduction webpage.
What can I do about it?
Climate change can often feel overwhelming. It's a global issue that requires big change from governments, businesses and people
While governments and businesses are changing it can sometimes it feel like our actions as individuals don't matter
However, many studies have shown that when actions are taken together the difference they can make is huge!
We have created some webpages to help make climate change less overwhelming and to give you some ideas about how you can make a difference