Business Climate Change Toolkit
Fareham Climate Change Toolkits
The Council has put together some information for our Residents, Community Groups and Businesses to help them on their carbon reduction journeys.
The Council is keen to support local businesses on their journey to reduce their carbon footprint. Below we have compiled some great resources to help businesses in the Borough to reduce their carbon footprint.
What is the role of businesses in tackling climate change?
In the UK businesses are responsible for 17 percent of Co2 emissions, just ahead of residential emissions which account for 15 percent.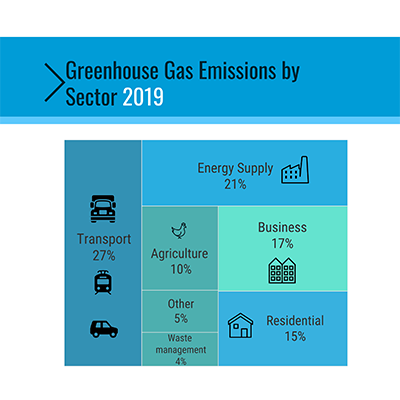 It's not just big businesses either, SMEs account for 61% of total employment. Therefore, SMEs will play a big role in reducing the carbon footprint of the business sector.
The Benefits of taking action
We all recognise the environmental benefits of taking action against climate change however it can also benefit your business too.
Save money- investigating ways you could reduce your consumption of energy and resources use will inevitably identify potential cost saving opportunities too
Answer customer questions- customers are becoming increasingly climate change conscious and are asking more questions of those they do business with, calculating your carbon footprint will mean you are in a much better position to answer them
 Attract new customers- as sustainability becomes a more important factor in people's spending decisions you may attract new customers through your carbon reduction efforts
Carbon Footprints 
If you want to reduce your business's impact on the environment, understanding the impact it already has is a good place to start.
The links below will help you understand your carbon footprint, how to calculate it and the things that should be included.
The Carbon Trust have a great guide  for SMEs on how they can understand their carbon footprints and make a plan to reduce their emissions.
Portsmouth City Council have produced a carbon audit tool which you can access on their website .
The government have published their Environmental Reporting Guidelines  for businesses which outline the elements of your business that should be included

What businesses can do 
Once you have established your baseline carbon footprint you can begin taking action to reduce it. These changes can start small and become more significant over time.
Below are some carbon reduction ideas you could get started with.
Energy 
Ask your electricity supplier about switching to a renewable tariff
Consider ways to improve energy efficiency e.g. changing lightbulbs to LEDs, upgrading appliances to energy efficient models
Encourage behaviour change at work by educating staff on climate change and the importance of energy efficiency e.g. remembering to turn lights and computer monitors off
Transport
If your business uses vehicles then you could look at switching to electric options, often reducing running costs as well as carbon emissions. The Energy Saving Trust  has complied useful information about how to make the switch and the various funding streams available.
The Energy Saving Trust also offers free fleet reviews which you can apply for on their website 
Cycle to work schemes are a great way to reduce the carbon footprint of commuting as well as the health of employees. The government has guidance  for employers that wish to introduce cycle to work schemes
Car sharing, or better yet, working from home, are great ways to reduce the number of cars on the road. Explore ways your business can support employees to make more sustainable journeys to work
Waste
Both landfill and waste incineration produce greenhouse gases, therefore the less you put in the bin, the better for the planet.
First identify where your waste is coming from by speaking to employees
Determine what waste is unnecessary and could be eliminated altogether
Opt for reusable options- this can also be part of staff behaviour change efforts. Could staff bring reusable mugs to work rather than using disposable ones?  
Explore recycling options- this doesn't just mean investing in different recycling collections, it could also mean supporting staff to collect items at work that can then be taken to local recycling points.  

More Resources
Below we have complied a list of climate change resources specifically targeted at businesses