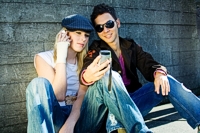 Under 35s
If you live alone and you are under 35, your Housing Benefit or Universal Credit (Housing Element) will only be based on the Local Housing Allowance shared rate, regardless if you are renting accommodation with more than 1 bedroom.
For details of the Local Housing Allowance rates, please see our Private Tenant pages.
The shared accommodation rate applies if:
You are part of a couple, don't live with dependants and rent a room in shared accommodation, or
You are 34 years or younger and single (exemptions for severely disabled people and care leavers under 22 years of age), or
You are 35 years or over, and rent a room for your sole use in a shared accommodation
The one bedroom rate applies if:
You are 35 years or over and rent a self-contained property (e.g. a whole flat or house)
You are 25 to 34 and rent a self-contained property and meet either of the following criteria:
Vulnerable Homeless: You have for a total of at least 3 months (whether or not continuously), occupied as your home, one or more hostels for homeless people; and whilst occupying such a hostel, have been offered and have accepted support services with a view to assisting to be rehabilitated or resettled within the community
Ex Offenders: The exemption will apply to ex offenders aged 25 or over who are subject to Multi Agency Public Protection Arrangements (MAPPA).The exemption will only apply if you are a Level 2 or 3 MAPPA offender. If you feel you are eligible for exemption under this rule then please contact your Offender Manager or the Duty Manager at the Probation Services or Police Station. Please do not telephone or write to us with your details, as an exemption can only be awarded by the Probation Services or Police Services completing the appropriate form and sending the form to the Benefits Team through a secure email address.
There is a scheme available to assist benefit claimants if they will suffer hardship as a result of rent restrictions. For more information, please see the section on Discretionary Housing Payments.