The Queen's Copse
Please note all trees for The Queen's Copse have now sold out. 
In 2022, Her Majesty The Queen becomes the first British Monarch to celebrate a Platinum Jubilee, having acceded to the throne on the 6 February 1952 when she was just 25 years old.
Fareham has a history of recognising significant Royal milestones so, to commemorate Her Majesty's 70 years of service, the Council is creating a sponsored tree planting scheme to create 'The Queen's Copse' within Abbey Meadows, Titchfield.
This specially created copse will offer a secluded and protected wildlife habitat to encourage biodiversity in the area, and Fareham residents, community groups, organisations, clubs and businesses can sponsor trees either for themselves, in memory of a loved one or on behalf of somebody.
Due to the popularity and high demand, we are delighted to announce that a second area has been identified to provide even more residents, community groups, organisations, clubs and businesses with the opportunity to sponsor a commemorative tree.  A further 80 trees have been made available in 'The Platinum Copse' which will be situated in the south of the Abbey Meadows site. This site will provide a second area of protected wildlife habitat to encourage biodiversity. Please note this area has now also sold out.
You can find out more about the Platinum Copse here.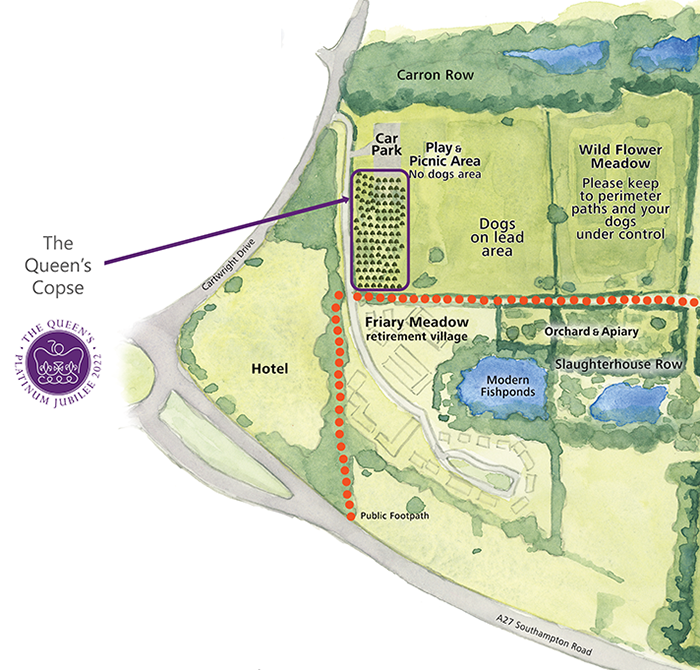 You can find a number of frequently asked questions here.
What happens next if I have sponsored a tree?
If you have sponsored a tree, you should have now received an email from us outlining the next steps.
Tree planting will commence at both sites from the start of the planting season in November 2022 and is expected to take a couple of months to complete, depending on the weather and ground conditions.
Those who have sponsored a tree will receive a certificate in the post shortly. Your name, or a name of your choice, will also be added to a role of honour displayed on the Council's website. 
You will receive an invitation to an official unveiling event which is expected to take place in Spring 2023. Once a date has been set we will let you know.
Whilst the copse will be closed to the public to ensure its protection, those who sponsor a tree will also be able to visit the site at an annual open day event.
For more information, please contact the Leisure Team on 01329 236100 or email queenscopse@fareham.gov.uk.