The Mayor of Fareham for 2023/2024 Municipal Year is 
Councillor Fred Birkett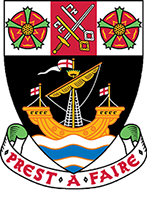 The Mayor of Fareham is elected by his/her fellow councillors in May each year. The Mayor will hold this post for one year and he/she do not have any political allegiances.
This year the Mayor of Fareham is Councillor Fred Birkett, closely supported by the Mayoress, Mrs Lisa Birkett.
The Deputy Mayor usually becomes Mayor in the following year. The Deputy Mayor for 2023/24 is Councillor Pal Hayre.
What does the Mayor do?
The Mayor's role is to chair Council meetings and represent Fareham at civic events and functions each year, including award-giving receptions and events organised by local voluntary and community groups.
The Mayor will be fundraising for two charities; Sophie's Legacy and Veterans Outreach Support.
Invite the Mayor to attend a function
You can invite the Mayor to attend an event or function by completing our online request form.
---