The Forest of Bere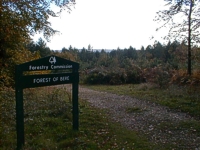 The Forest of Bere lies north of Fareham and is the nearest and most accessible countryside for many of the residents of south-east Hampshire. It is a mixture of woodland, open space, heathland, farmland and downland. It provides a range of opportunities – walks and trails, horse riding and cycle routes.
The Saxon Kings used the forests for hunting long before the Normans made Bere a Royal Forest. The last monarch to hunt here was Charles I in 1628. Bere was officially declared a forest in 1086, putting it under forest laws and staking it outside common law. The Verderer's Court was instituted in 1306 to regulate forest use. Like other royal forests its main purpose was for hunting, but it soon became important for timber.
By the 17th century timber was fast disappearing - three per cent of its timber remained and the land area had been reduced to 25 square miles. Samual Pepys thought it large enough, and because there were still perils for the traveller, records in 1662 show that he 'hired a countryman to guide us to Havant to avoid going through the forest'.
Bere suffered from its proximity to the shipbuilding industry and land-hungry farmers. Petitions sent to the Treasury complained about large areas of wasteland inside the Royal Forest and asked for its formal disafforestation by Parliament. This was granted in 1810. The remaining woodland was passed from the Crown Office of Woods to the Forestry Commission in 1919.
Today, the forest is a shadow of its former self. At one time it stretched from the River Test at Kings Somborne in the west in a great arc through Hursley, Eastleigh, Bishops Waltham and Denmead to Rowlands Castle in the east. Fragments of the forest survive across the area, protected from further destruction by the Forestry Commission and Hampshire County Council.