Swanwick Lakes Wildlife Reserve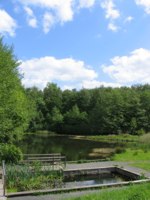 Swanwick Lakes Centre and Wildlife Reserve has been managed as a wildlife reserve by Hampshire and Isle of Wight Wildlife Trust since 1991 with funding from site owners NATS. The flooded clay pits, woodland and meadow provide a mixture of habitats for wildlife on this 89 acre former clay extraction site for Bursledon Brickworks. Clay has been extracted in the area since the late 19th century, with the first pit dug on the reserve site in 1948. When extraction finished in 1974, woodland was developed over much of the reserve. New Hill was created using spoil from the site and sown with meadow seed mix. Centre Lake has been zoned to make it more accessible for wildlife and a variety of insects and birds can be seen there.
Getting around
The reserve is an ideal place to explore, walk and relax. There are three circular routes. Most paths are surfaced and have benches at least every 200m. There are some slopes (10-20% for up to 50m into the pits) but the paths are flat elsewhere. For more information, including a map, visit the Hampshire & Isle of Wight Wildlife Trust - Swanwich Lakes page 

.
The centre
There are various crafts for children, wildlife information, tea and coffee and a bird viewing area. As well as working with visiting schools, youth groups and adult special interest groups, staff provide a busy programme of public guided walks and events. Visit the national wildlife watch website 

to see details of the monthly wildlife watch meetings.
Getting involved
We are keen to hear from volunteers to help with Sunday openings; if anyone is interested please contact Dawn Preston via email at dawn.preston@hiwwt.org.uk.
Hampshire Wildlife Trust
The Trust is the leading local wildlife conservation charity in Hampshire and the Isle of Wight. It cares for 57 wildlife reserves – more than 6,500 acres of valuable wildlife habitat – and by providing volunteering, education and training opportunities, enables individuals and communities to provide sustained benefit. As well as managing its own land, it advises other landowners how to manage their land with wildlife in mind. It carries out surveys and gathers data to monitor how local wildlife is doing. It works to protect wildlife on land and in the sea. If you are interested, you can become a volunteer or a member of the Trust. As a volunteer you can help look after the reserves and help with events. As a member you will be doing your bit to support and protect local wildlife for the future. For more information please visit the Hampshire & Isle of Wight Wildlife Trust website 

.
Points of interest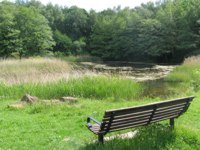 Centre Lake - The lake began in 1951 as a deep hole and was partly filled and flooded in 1991 to create a shallow lake. Over the years nature has transformed a sterile clay pit into a lake teeming with life.
New Hill - This hill is man-made, built with material dug during the building of the air traffic control centre in 1991. Grass and wildflower seed was scattered over the hill to produce the meadow you see today.
Stream - The stream carries water westward from farmland to the River Hamble. Among the creatures you can see here are freshwater shrimps, damselfly and dragonfly nymphs.
Conveyor Path - This path follows the line of a long conveyor belt that carried clay from the pits to a cableway for transporting to the brickworks at Bursledon. Part of it is made from rejected bricks and these can be identified by the BBC stamp.
Clay Pits - When the Bursledon Brickworks closed in 1974 after 25 years of brick-making the clay pits flooded forming the four lakes you see here today.
Woodland - The trees have grown since 1974 when the brickworks closed and clay digging stopped.  The earth bank in front of the wire fence is an old field boundary and the trees on it are the oldest on the reserve.
Longaldridge Pasture - Strawberries were grown here until 1939. Over the years nature has replaced these strawberries with orchids, selfheal and other wildflowers providing nectar for butterflies, bees and other insects.
Seasonal highlights
Spring - Great spotted woodpeckers drumming and morning chorus of birdsong.
Summer - Dragonflies and butterflies.
Autumn - Gold-coloured birch trees, deep green lakes and fungi on the woodland floor.
Winter - Sunlight streaking through frosted trees and flocks of tits passing close by.