Royal connections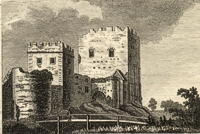 From the time of King Henry II in 1163, Fareham has had links with royalty, with several reigning monarchs visiting and staying in the area. Portchester Castle was a popular residence - Edward III stayed there while preparing for his expedition which led to the Battle of Crecy and the Siege of Calais. Henry V and his archers used it as a base for an invasion of France and the King returned to it after the Battle of Agincourt. Henry VIII visited the castle with his second wife, Anne Boleyn in 1535 and his daughter, Queen Elizabeth I, held court there several times.
During the Civil War of 1642-1646 Fareham supported the Royalist cause. As a result it suffered at the hands of the victorious Cromwellians on several occasions.
The reign of King Edward 1 saw the formation of the first English Parliament and Fareham was one of only a handful of Hampshire towns invited to send representatives. Its population of 6,996 in 1801 had more than doubled by 1891 and by 1931 it had grown to 21,817. In 1932 the old town of Fareham joined with ancient villages surrounding it to form the Urban District of Fareham which eventually became a separate parliamentary constituency in 1970. In 1974 Fareham achieved the status of Borough and today boasts a population of more than 108,000.