Trade and industry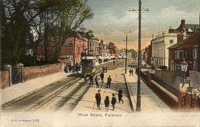 Records from the early Middle Ages suggest Fareham was a significant market town serving the local agricultural area. A market has been held here since the 12th century.
For many centuries, it was a flourishing seaport. In Medieval times it had an active role shipping Hampshire grain in exchange for French wine and by the 14th century it was well known as an important south coast port. Ships brought imports such as coal, corn, salt, hides and bark to Fareham's quays. This cargo would be replaced with produce from Fareham's industries such as timber, leather, bricks, pottery and grain. The ships were loaded in Fareham Creek and the Haven at Titchfield. There was a passage for vessels right into Titchfield at the time but this eventually declined as the river silted up.
During the late 18th century ship-building was at its peak in Fareham and this helped to give the town a big advantage. Timber from vast Fareham and Titchfield parks was transported by sea via Fareham and Warsash to other ship-building centres around the coast. This industry continued for 100 years until it began to wane, although during the early part of this century a large number of smaller pleasure craft were being built by local ship-builders and this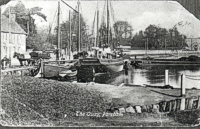 still continues today at boatyards along the River Hamble.
As shipbuilding started to decline other industries prospered, such as strawberry growing, chimney- pot production, leather-tanning, brewing, flour, wool, sacking, timber, pottery and clay-pipes. During Georgian and early Victorian times Fareham grew rapidly to serve the needs of the surrounding agricultural area and the Royal Navy. Many elegant houses were built for high-ranking naval officers to live in pleasant surroundings away from the Dockyard. Shops and businesses grew around a cheese market in High Street and a large cattle & provision market was held in the centre of West Street until the 1960's.
The town was one of the first in the country to be lit by electric lights. Until 1974, Fareham had an active brick making industry which used local clay to produce famous 'Fareham Reds' bricks. Many Georgian houses in High Street are built of these.