Access All Areas 2022
Beat the boredom this summer and take part in some great activities!
Access All Areas is for young people aged 11-16 years old that live and go to school in Fareham.
This year we are working with some fantastic local organisations to put on lots of different activities. Spaces on these activities will be limited, so please make sure your parent/guardian registers you early to avoid disappointment.
Register online in advance
Applications open on Monday 27 June and will close on Friday 15 July (subject to spaces still being available).
You must register in advance.
You can take part in 1 activity per week throughout August, but you must get your parent/guardian to register you online first. There will be a one-off fee of £10 (including VAT) to cover all your sessions, which is payable when we contact your parent/guardian to book them in. Further details are here in the terms and conditions.
On the form, you will be asked to choose your 1st, 2nd and 3rd choice activity for each week.
Please note, the booking form is not a live system so it will be taken down at 5pm each evening and over the weekend in order to monitor the bookings.
REGISTRATION HAS NOW CLOSED.
Once you've registered, we'll call parent/guardians to confirm your sessions and take payment over the phone. They'll be contacted in the same order that we receive registrations, so remind them to get it sent in early!
Once you are booked on your sessions, a pass will be sent to you in the post. The pass will show us that you have booked, so don't forget to bring it along to the start of each session, and please don't lose it!
If you have any questions about the sessions, please contact the Leisure and Community Team on 01329 236100 or email AccessAllAreas@fareham.gov.uk.
What's on offer?
A timetable of activities is below. All activities must be booked in advance and any additional consent forms will need to be completed and returned to the event organiser on the day of the activity. Your parent/guardian will be sent the additional consent forms in the post along with your pass, together with full details of the sessions you're booked on.
Please note: you can find an accessible version of the timetable here.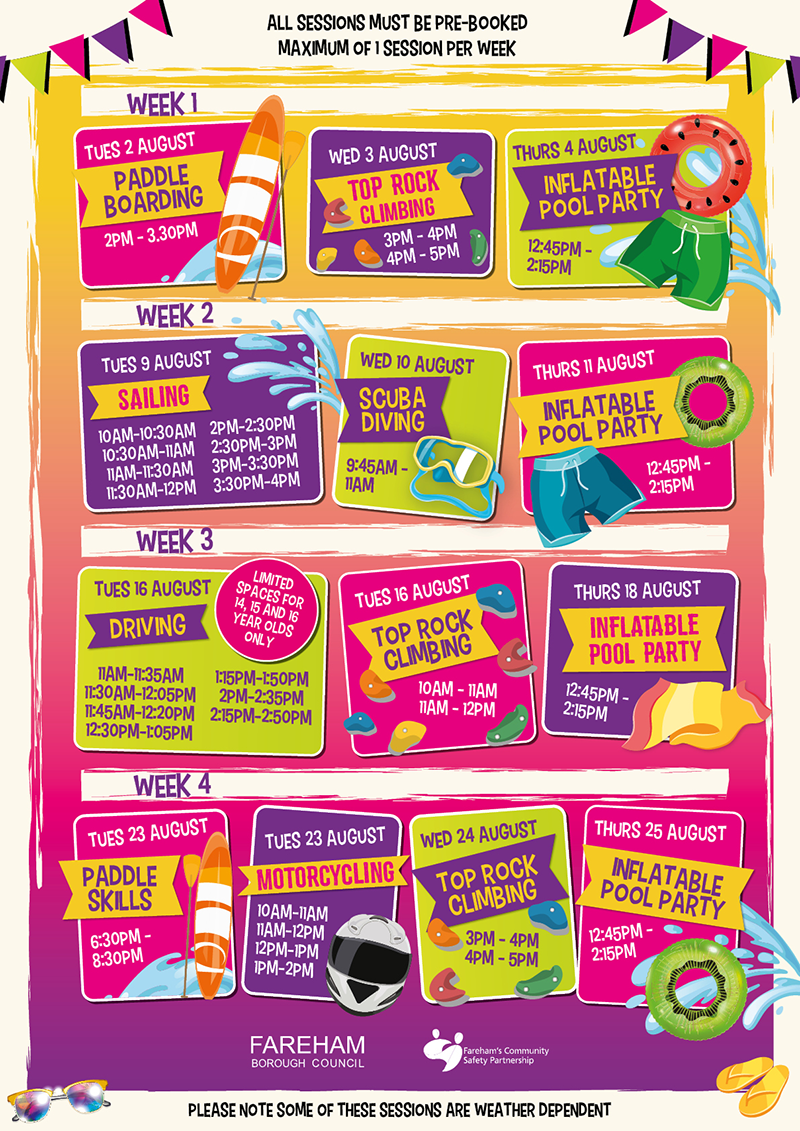 FAQs
Please read the below carefully as some things may have changed from previous years.
Who is eligible to attend?
How can I sign my child up?
What is included in this year's Access All Areas?
How much does it cost?
What other safety measures will you be taking?
What else do I need to know?
Who is eligible to attend?
Participants must attend a secondary school based in the Borough of Fareham or be about to start in September 2022.
How can I sign my child up?
A parent or guardian must register their child online for Access All Areas. Once your child has been successfully registered, you will then receive a call back from the Council to finalise the booking within three working days and to take payment over the phone. Calls from the Council may show up on your phone as an unknown number.
Once accepted, your child will be sent a lanyard in the post, along with an event information pack. Please make sure your child wears their lanyard at the start of each session as it lets us know that they are registered and will help to speed up the signing-in process on arrival.
Anyone not booked on the session (including any parents!) will be asked to leave as we don't want to encourage lots of people to congregate.
What is included in this year's Access All Areas?
All the activity options can be seen at www.fareham.gov.uk/aaa. We recommend you have a look at when the sessions are taking place before you complete your registration form.
You can choose one activity per week, each week for the month of August. However, please be aware that activities have limited spaces available and will be booked on a first-come, first-served basis. Therefore, you may have to be flexible with your final choices, but we will always aim to accommodate you where possible.
How much does it cost?
There is a fee of £10 (including VAT).  This works out at £2.50 per session, although the amount will still be £10 whether you decide to book just one session or all four for your child to participate in. The fee is non-refundable, and payment is taken over the telephone.
If you can't afford this fee, we are taking referrals from our partner agencies for free spaces.  There are a certain number available for each session so please make sure your Social Worker or School Link Worker contacts our Community Safety Manager to put your name forward.
What safety measures will you be taking?
Council officers will be on site for the duration of each activity, to make sure your child and our partner organisations are safe and have a great time. First aiders will also be on site in the unlikely event of any injuries.
What else do I need to know?
If any of the activities that your child has been booked on needs additional parental consent, the form(s) will be included in your event information pack. These will be sent by the Leisure and Community Team at least a week before the date of the first session. You must complete the forms in order for your child to take part and completed forms should be brought with the child to the relevant session.
Some of the activities take place outside and may need to be modified or cancelled in the event of poor weather.  We will try our best still to run an enjoyable session, but this may not always be possible.
Your child will need to bring a change of clothes and a towel if they are doing water-based activities. And if the weather is going to be warm, please ensure your child is wearing sun cream and that they bring a drink. 
The Council cannot accept responsibility for your child's personal belongings. We recommend they bring a bag for any essential items that they may need to bring with them.
There are strictly no cigarettes, e-cigarettes, lighters, alcohol, drugs, fireworks or aerosols allowed anywhere on Access All Areas sites.
If you have any questions please contact the Leisure and Community Team on 01329 236100 or email AccessAllAreas@fareham.gov.uk.