Love Food Fareham
Whatever food you love, there are lots of ways to make the most of it and avoid waste. Why not try these recipes, shared by Fareham residents?
---
Citrus Cake
From INCPEN 

This big moist sponge is a good way to use up surplus vegetables, and is perfect for pumpkin! It freezes well
(freeze it without icing and add this after thawing if required)
Ingredients: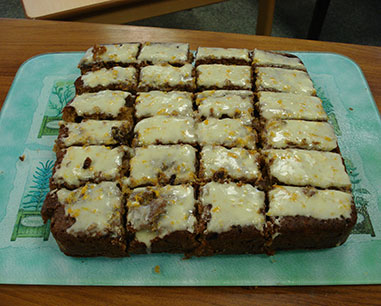 200g butter, melted
140g sultanas or raisins
Zest and juice of 2 oranges
300g self-raising flour
300g light brown sugar
2 teaspoons mixed spice
1 teaspoon ground ginger
1 teaspoon bicarbonate of soda
Pinch of salt
4 large eggs, beaten
300g carrots, pumpkin, parsnips, butternut squash or swede, or a mixture, grated
200g icing sugar
Instructions:
Heat oven to 180°C / 350°F / Gas 4. Grease and line a 30 x 20cm baking tin with baking parchment.
Mix the sultanas and zest and juice from 1 orange and microwave on high for 2 minutes (or heat in a pan until warm).
Put the flour, brown sugar, spices, bicarbonate of soda and salt into a large bowl.
Mix the eggs with the melted butter and sultana mixture, then add to the dry ingredients and stir well.
Stir in the grated vegetables and put the mixture into the tin. Bake for 35-40 minutes, or until a skewer poked in the centre comes out clean. Different vegetables might need slightly less or more cooking time, depending on their moisture content. Cool in the tin.
Put the icing sugar in a bowl and add remaining orange zest and enough juice to make a runny icing. Drizzle over the cake, leave to set and cut into squares.
---
Pupils at St. Columba C. of E. Academy, Fareham, visited residents of sheltered housing at Buckingham Court and White Lodge Gardens, Fareham. The elderly residents shared their recipes and tips to avoid wasting food, and the children used their computer skills to share these recipes.
Chocolate Sponge Cake
Shared by pupils at St. Columba C. of E. Academy, Fareham
Ingredients:
6 oz butter or margarine
6 oz caster sugar
6 oz self-raising flour
3 eggs (beaten)
1 oz Cocoa powder
Instructions:
First cream the butter or margarine and sugar together until it turns pale.
Then add the eggs to the mixture.
Then mix in the flour and cocoa powder.
Next place the mixture in to the greasy tin.
After that, carefully place the tin in the oven and wait for about 20 minutes, until it has cooked.  Test if it is ready by putting a knife in the middle and seeing if it comes out dry.
Lastly pull it out of the oven and you have a choice whether to put cream on it or not.
Top Tip: Mix in the air and keep on turning it over and over again so that it will get a bit fluffier!
---
Apple Sponge
Shared by pupils at St. Columba C. of E. Academy, Fareham
Ingredients:
1 - 2 cooking apples, peeled and chopped
50 grams of sugar
75 grams of flour
1 egg
50 grams of butter
Instructions:
Weigh ingredients
Beat butter and sugar
Add whisked egg
Sift flour with a sieve
Fold the flour and add apples
Bake for 40 minutes
Eat your delicious Apple sponge
---
Rhubarb Sponge
Shared by pupils at St. Columba C. of E. Academy, Fareham
Ingredients: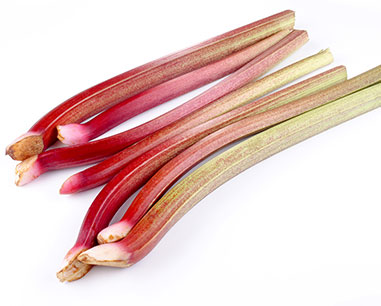 150g of flour
1 egg
100g of butter
100g of sugar
Rhubarb
Instructions:
Whisk the butter and sugar together.
Add egg slowly but keep on whisking.
Add flour then sift flour with a sieve.
Add rhubarb and finally bake in oven and bon appetite!
---
Bread and Butter Pudding
Shared by pupils at St. Columba C. of E. Academy, Fareham
Ingredients:
Left over sliced bread
Margarine
Jam/Marmalade
Currants
Sultanas
Sugar
3 Eggs
1 pint of milk
Greased oven-proof dish
Instructions:
Spread the bread with margarine, marmalade or jam.
Layer in greased oven-proofed dish and sprinkle each layer with currants, sultanas and sugar.
In a separate bowl beat together 3 eggs and 1 pint of milk, and pour this over the bread slices.
Leave to stand for at least an hour for the bread to absorb the liquid.
Put in oven at 180 degrees C for 30 minutes, or until pudding is set.
Enjoy!
---
Doughnut Pudding
Shared by Sue Hand, Recycling Co-ordinator
Two-day old jam doughnuts make a great version of the classic Bread and Butter Pudding. Slice each doughnut
(I had five) into 4 slices, and make as above, cutting down on the sugar and butter as the doughnuts are already sweetened and fried. I spread a little extra jam on the slices, and added two thinly-sliced ripe pears that needed using among the layers. Leave to cool for a few minutes before you serve it as the jam gets VERY hot. Serve with pouring cream.
It was delicious and didn't last long! Stale chocolate muffins would work well too.
---
If you would like to share your recipes or tips, please send them in and they might appear on this website and on Facebook and Twitter.
All submissions are checked before being published and we reserve the right not to publish each recipe that is submitted.
Thanks for helping others to reduce their food waste!