Love Food Fareham
Whatever food you love, there are lots of ways to make the most of it and avoid waste. Why not try these recipes, shared by Fareham residents?
---

Derek from Fareham cuts French Bread Sticks into thick slices and freezes them. They make delicious crunchy toast and you do not have to set your toaster to defrost, just toast from frozen. Cut them at 45deg bias for a slightly oval bigger slice.
 
---
Pupils at St. Columba C. of E. Academy, Fareham, visited residents of sheltered housing at Buckingham Court and White Lodge Gardens, Fareham. The elderly residents shared their recipes and tips to avoid wasting food, and the children used their computer skills to share these recipes.
Curry Recipe
Shared by pupils at St. Columba C. of E. Academy, Fareham
Ingredients:
1 stock cube
½ a pint of water (boiled)
Leftover meat (cut into small pieces)
1 large onion
1 small apple
2 teaspoons of curry powder
2 teaspoons of tomato puree
1 teaspoon of sugar
Instructions:
Cut the apple (no skin) and stir with the stock cube and water.
Chop the onions, and place all the items in a saucepan.
Add the 2 teaspoons of curry powder and the tomato puree.
Add the sugar and stir.
Cook at low gas, and keep on stirring frequently.
When it's done serve with cooked rice.
Now you can dig into this fine dish!
 
---
Recipe for omelette
Shared by pupils at St. Columba C. of E. Academy, Fareham
Ingredients: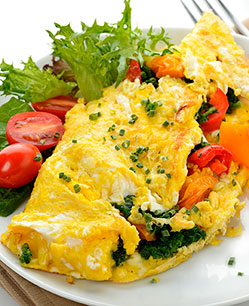 Onion
Scraps of Bacon
Scraps of Ham
Some cooked veg
Butter
Eggs
Instructions:
Cook onion until soft, add the bacon and ham.
Add cooked veg and then cook until heated through.
Add eggs and cook until bottom starts to brown.
Put under grill until top is brown.
To finish, serve with buttered toast.
 
---
No-pastry quiche
From Emma Boorn
My recipe uses up veg and bits in the fridge

Instructions:
Ham in the bottom of a flan dish
Beat 3 eggs and milk to make a quiche mix
Chop up whatever you have, eg leeks, onions, courgettes, peppers, tomatoes and put on top of ham
Add the egg/milk mix to cover
Add pepper and chives and some grated cheese on top and place in the oven to cook for about 30-45 mins gas mark 5-6, 190 degrees centigrade
Delicious hot or cold.
---
If you would like to share your recipes or tips, please send them in and they might appear on this website and on Facebook and Twitter.
All submissions are checked before being published and we reserve the right not to publish each recipe that is submitted.
Thanks for helping others to reduce their food waste!