Getting here
There are many ways to get to Fareham and the information contained within this section is aimed at making it as easy as possible.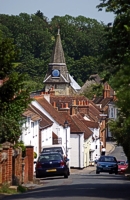 There is information for road users such as car parking in Fareham, those using the rail services and coach and bus operators together with many useful external links to other sites (such as ferry services and airports).
You can also find information about where to park in Fareham and car park charge here. 
Should you wish to contact the council please see our contact us page.
Please e-mail webmaster@fareham.gov.uk if you wish to suggest any other links which may be useful to other users of this website.