Sarisbury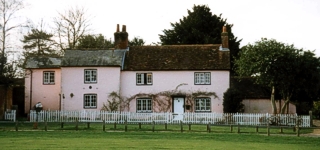 This thriving residential community lies on the western side of the Borough of Fareham on the edge of the Hamble Valley. It is built along the A27 Southampton Road and was once part of the parish of Titchfield.
Early days
Sarisbury Green once formed part of the western edge of the Manor of Titchfield and from the 13th century until the dissolution of the monasteries had a long association with Titchfield Abbey. Upon dissolution ownership passed as part of Titchfield Manor to a friend of King Henry VIII, Thomas Wriothesely (Earl of Southampton and Baron of Titchfield) and remained in the ownership of his descendants for over 100 years. Upon the death of the 4th Earl ownership passed to the Duke of Beaufort and was subsequently sold to Peter Delme of Cams Hall in 1741.
Village Green
Once referred to as 'Saresbury', records of the Hambledon Cricket Club in 1774 confirm the existence of the Green before that date. The Green escaped enclosure by Act of Parliament in 1845 and remains a registered Village Green.
In 1912 the village consisted of only two or three inns, a church, a schoolhouse and a few cottages around the Village Green. Records show it was once part of extensive common land in the area and was mainly used as cricket pitch. In fact, the Green still exists today and is often used for cricket matches.
St Paul's Church
At the corner of the grounds is the Church of St Paul which was built as a chapel of ease on land provided by Henry Peter Delme in 1836 to serve the expanding population of Titchfield Parish. The church is built in an early English style with a chancel and transepts. The tower and entrance face the Village Green across Barnes Lane. The church is an important landmark and can be seen from all parts of the Village Green.
Sarisbury Village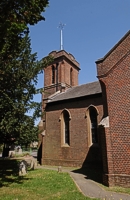 For many years Sarisbury Green was a small settlement on the route to the ferry that crossed the River Hamble at Swanwick. In 1800 the Bursledon Bridge replaced the ferry and the turnpike road to Park Gate was constructed, placing Sarisbury on the main road from Southampton to Portsmouth. Toll records from that time show the road was heavily used, particularly for military traffic during the Napoleonic war. The road grew into a major route from Southampton to Portsmouth and remained so until construction of the motorway in 1971.
Sarisbury was close to three large estates; Brooklands to the west; Holly Hill House (later known as Sarisbury Court) to the south and Coldeast to the east. All three had access through Sarisbury Green. The carriage drive to Brooklands can still be seen crossing the North Western corner of the green and Holly Hill Lane leads south where it provided access to both Sarisbury Court and the western access to Coldeast.