Building near trees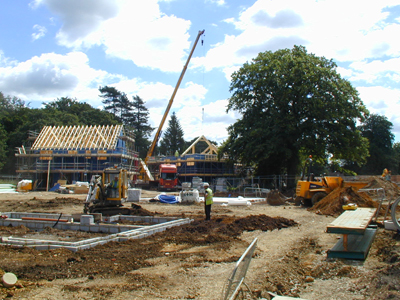 Trees (including shrubs and hedges) play an essential role in the built environment and visual amenity of rural and urban landscapes. They may take decades to grow, but can be damaged irreparably in a few minutes by actions that may be unwitting or wilful. Wherever they are growing - in public areas, private gardens, rural verges or elsewhere – they need space for adequate development of their root systems and to allow the branches to develop an attractive and natural shape.
How trees are damaged
Trees are complex living organisms, which are susceptible to damage from a wide range of physical agents or activities. Trees do not heal; damage caused to a tree will remain for the rest of its life. Even minor damage may set up circumstances leading to the tree being seriously impaired in the long term.Contrary to popular belief, the root system of a tree is not a mirror image of the branches, nor is there usually a 'tap root'. The majority of the root system of any tree is in the surface 600mm of soil, extending radially in any direction for distances frequently in excess of the tree's height. Excavation or other works within this area are liable to damage the roots.
The root system
The base of a trunk typically flares out in buttresses extending into the main lateral structural roots. These rapidly subdivide into the mass of smaller roots which serve to anchor the tree into the soil and transport water and nutrients. Even at a short distance (3m) from a large mature tree, most roots will be less than 10mm in diameter, but these may extend to well beyond the branch spread of the tree. A mass of fine roots, less than 1 mm in diameter, develop off all parts of this root system. These fine roots also absorb the water and nutrients, which are essential for the growth of the tree. The main structural roots (close to the trunk) develop as the tree grows in response to the need for physical stability. Beyond these major roots growth is influenced by the availability of water, air and nutrients in the soil.
Trees in relation to design, demolition and construction - recommendations
The Standard provides recommendations and guidance for arboriculturists, architects, builders, engineers, land managers, landscape architects, contractors, planners, statutory undertakers, surveyors, and all others interested in harmony between trees and development. British Standard 5837 gives recommendations and guidance on principles to be applied to achieve a satisfactory relationship between trees and development. It follows a logical sequence of stages that have tree care at their heart, which is essential to allow development to be integrated successfully with trees.
British Standard 5837 recognises that there can be problems with development close to existing trees which are to be retained, and of planting trees close to existing structures. The standard sets out to help people concerned with design, construction or demolition of trees to form balanced judgements. It does not seek to put arguments for or against development, or for removal or retention of trees. Where development, including demolition, is to take place, the Standard provides guidance on how to decide which trees are appropriate for retention, on the means of protecting these trees during development, including demolition and construction work, and on the means of incorporating trees into the developed landscape. It was originally published in 1980 but the current version takes account of the practice for managing, protecting and planting trees in the vicinity of structures and for the protection of structures near trees. It updates guidance for building regulations and recognises the contribution that trees make to adapting our built environment to the impacts of climate change.
More information:
You can buy copies of British Standard 5837 and other standards from the British Standards Institute at Head Office, 389 Chiswick High Road, London W4 4AL.
BSI Website: https://www.bsigroup.com/en-GB 

National Joint Utilities Group (NJUG) guidelines for the planning, installation and maintenance of utility apparatus in proximity to trees. Volume 4, Issue 2. NJUG 2007.
This publication provides guidelines and information to utility companies and contractors for planning, installing and maintaining below ground services in relation to trees. You can buy copies of NJUG publications from 28 Broadway, London SW1H 9JX or see the
NJUG website: http://www.njug.org.uk 

For further information, contact our tree team on 01329 236100 ext. 4442 or e-mail trees@fareham.gov.uk.