What we can't accept in blue lid recycling bins
These things should be put in your refuse bin so that they can be burned cleanly and electricity generated for the National Grid in one of three energy recovery facilities:
Plastic bags - All recyclables must be loose as machinery at the sorting plant can't open bags. The only exception is clear plastic sacks which are opened if staff can see that contents are recyclable. We do not recycle the plastic bags themselves.
Any plastic other than bottles - There are difficulties sorting other plastics, and limited facilities for recycling plastics other than bottles. You can see more information on plastics.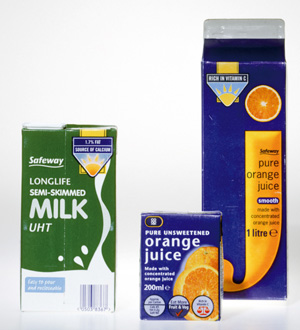 Shredded paper - This gets blown around the sorting plant and is lost. It can be put in a home composter where it works well mixed with grass. You can get more information about shredded paper.
Tetra Paks (cartons, e.g. drink cartons) – There are limited facilities for recycling these which are a mixture of card, plastic film and aluminium. We are looking at other options but we need to take into consideration the energy and water used in recycling it, compared to recovering the energy via incineration.
Glass - Glass shards ruin newspaper if they are put in the recycling bin together. Please recycle at a glass bank or put in your household refuse.
For more information please email customerservicecentre@fareham.gov.uk or call us on 01329 236100.