Order a bin
You can order bins for refuse or recycling and garden waste by calling us on 01329 236100 to pay over the phone, or by visiting the Civic Offices payment desk. You cannot pay on-line but you can email customerservicecentre@fareham.gov.uk for more details.
You can sign up to the garden waste subscription service online.
Refuse and recycling bins
It is recommended that you put your house name or number on your bins so you can identify which is yours.
There is a charge to householders of £39 (including delivery) for a new or replacement refuse or recycle bin. Householders are responsible for providing and maintaining their refuse and recycling bins, and for replacing them if worn out, damaged, vandalised, lost or stolen. This includes if your bin, including the wheels, has broken during a collection because it has become brittle due to its age which becomes increasingly likely after the bin has reached 10 years old.
If you have moved house, you will need to buy your bins if they are not there already. This applies to new-build and existing properties. Only Fareham Borough Council issued bins are acceptable and no others will be emptied. 
If you wish to change the size of your bin (up or down); there is an admin charge of £15.00 to exchange the bin. The maximum size is a 240 litre bin, the smallest is a 180 litre bin.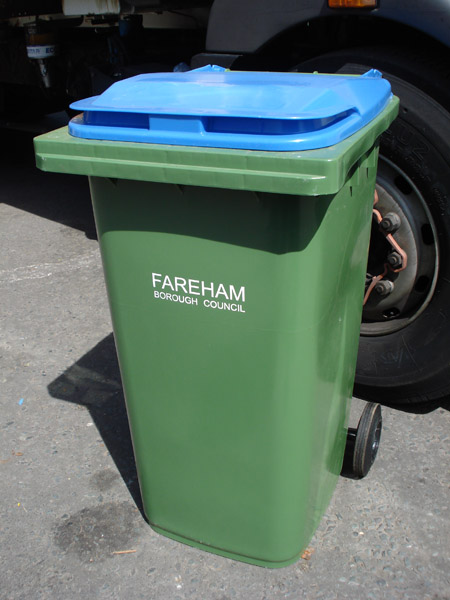 The allocation is one refuse bin per property, except for larger households or those with exceptional circumstances who require extra capacity. An extra, smaller refuse bin may be offered following an application process. If approved, there is a charge of £39 for the bin. Extra recycle bins are available without an application, at a cost of £39.
Please allow a minimum of 10 working days for delivery of bins once payment has been received.
Garden waste
Garden waste is only collected under the subscription service.
Home composters
Composting is an easy way to reduce the amount of waste in your bin. As well as holding waste such as peelings, uncooked vegetables, tea bags, straw and pet bedding, a composter will improve the soil in your garden. Hampshire residents can buy reasonably priced composters 

.
New property developments
When new houses are built, the developer may buy the bins; but if not, residents will be required to purchase bins. Developers must buy the communal bins for new flats. Current charges for developers for refuse and recycling bins are:
Standard refuse and recycling bin for new houses
240 litre = £55.00 including VAT
Communal refuse and recycling bins for flats
340 litre = £86.00 including VAT
1,100 litre = £525.00 including VAT