Order a bin and garden waste sacks
You can order bins for refuse or recycling and garden waste sacks by calling us on 01329 236100 or emailing customerservicecentre@fareham.gov.uk. You can also purchase garden waste sacks from the Civic Offices.
Refuse and recycling bins
It is recommended that you put your house name or number on your bins so you can identify which is yours.
There is a charge to householders of £32 (including delivery) for a new or replacement green top refuse bin. If you have moved house, you will need to buy a bin if there is not one there. This applies to new-build and existing properties. Only Fareham Borough Council issued bins are acceptable and no others will be emptied.
There is no charge for bins under the following circumstances:
If the bin or lid was broken while it was being emptied (subject to management approval).
If you wish to change the size of your bin (up to the maximum size of a 240 litre bin). The smallest size bin we use is a 180 litre bin. The small 140 litre bins are no longer issued.
If your bin has been stolen.
You are allowed one refuse bin per property unless you qualify for extra capacity as a larger household or have exceptional circumstances. An extra, smaller refuse bin may be offered on a means tested basis.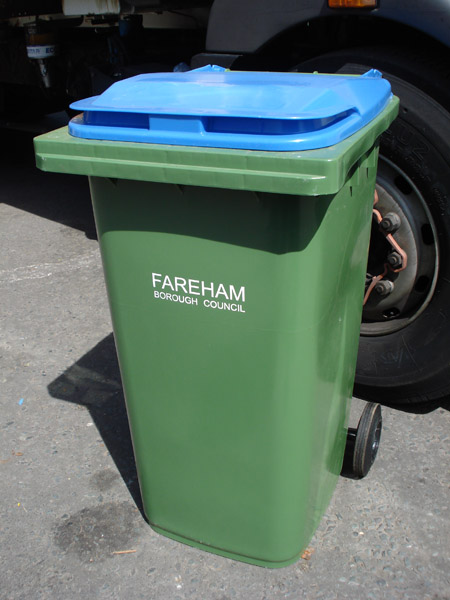 Please allow a minimum of 10 working days for delivery of bins once payment has been received.
Garden waste
Reusable garden waste sacks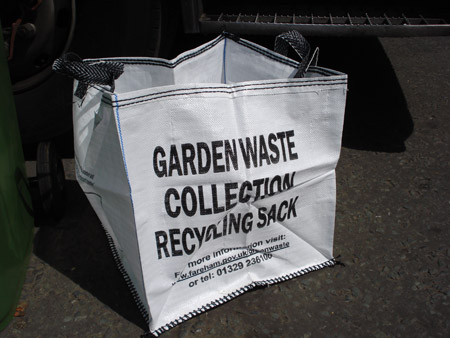 Replacement reusable garden waste sack are available free of charge from the Civic Offices. Alternatively, there is a delivery charge of £5.
Please note only one garden waste sack issued by the Council can be collected from your property.
Disposable garden waste bags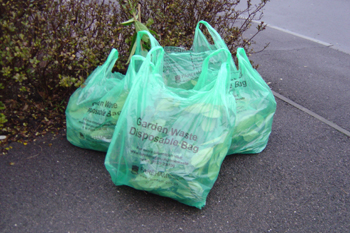 You can buy disposable garden waste bags for extra garden waste. These are available from the Cash Office at the Civic Offices. There is a charge of £28.00 for 25 bags (including delivery) or £6.50 for 5 bags (no delivery, packs of 5 bags are available by collection only). You can put out as many of these bags on collection day as you wish.
Please note only disposable garden waste bags issued by the Council will be collected.
 

 
Home composters
Composting is an easy way to reduce the amount of waste in your bin. As well as holding waste such as peelings, uncooked vegetables, tea bags, straw and pet bedding, a composter will improve the soil in your garden. Hampshire residents can buy reasonably priced composters 

.
New property developments
When new houses are built, the developer may buy the bins; but if not, residents will be required to purchase bins. Developers must buy the communal bins for new flats. Current charges for refuse and recycling bins are:
Standard refuse and recycling bin for new houses
240 litre = £38.40 including VAT
Communal refuse bins for flats
340 litre = £64.00 including VAT 
1,100 litre = £404.60 including VAT